Presentation
PREESM is an open source rapid prototyping tool. It simulates signal processing applications and generates code for heterogeneous multi/many-core embedded systems. Its dataflow language eases the description of parallel signal processing applications.
The PREESM tool inputs are an algorithm graph, an architecture graph, and a scenario which is a set of parameters and constraints that specify the conditions under which the deployment will run. The chosen type of algorithm graph is a parameterized and hierarchical extension of Synchronous Dataflow (SDF) graphs named PiSDF. The architecture graph is named System-Level Architecture Model (S-LAM). From these inputs, PREESM maps and schedules automatically the code over the multiple processing elements and generates multi-core code.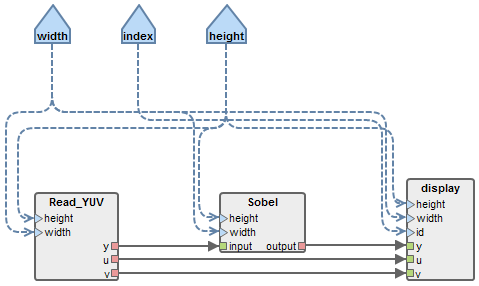 This image pictures a sobel filter application expressed using PiSDF.
PREESM supports and has been used to generate code for:
x86 multiprocessors over Linux & Windows
Texas Instruments Keystone I & II
Kalray MPPA many-core (Bostan)
Xilinx Zynq SoC
ARM Big.LITTLE & Multi-core ARM over Linux
Installation
Instructions for installing Preesm can be found in the documentation. Preesm consists in Eclipse plug-ins. If you are already familiar with Eclipse update sites, the different ways for getting Preesm are detailed in the Getting Preesm part.
Contact & Follow
For general information, do not hesitate to contact us at contact@preesm.org
For technical issues, please contact us via GitHub Issues tracker.
You can follow us by:
Partners
We would like to thank project contributors:
Hall of Fame
Following is the list of contributors to this project:
Yaset Oliva
Sudeep Kanur
Hamza Deroui
Jérôme Croizer
Thanh Hai Dao
Karol Desnos
Clément Guy
Julien Hascoët
Julien Heulot
Robert McNeill
Judicaël Menant
Daniel Ménard
Pierrick Menuet
Hugo Miomandre
Pengcheng Mu
Jean-François Nezan
Erwan Nogues
Ronan Parois
Maxime Pelcat
Jonathan Piat
Romina Racca
Alexandre Honorat
Florian Arrestier
Daniel Madronal
Antoine Morvan
Matthieu Wipliez
Leonardo Suriano